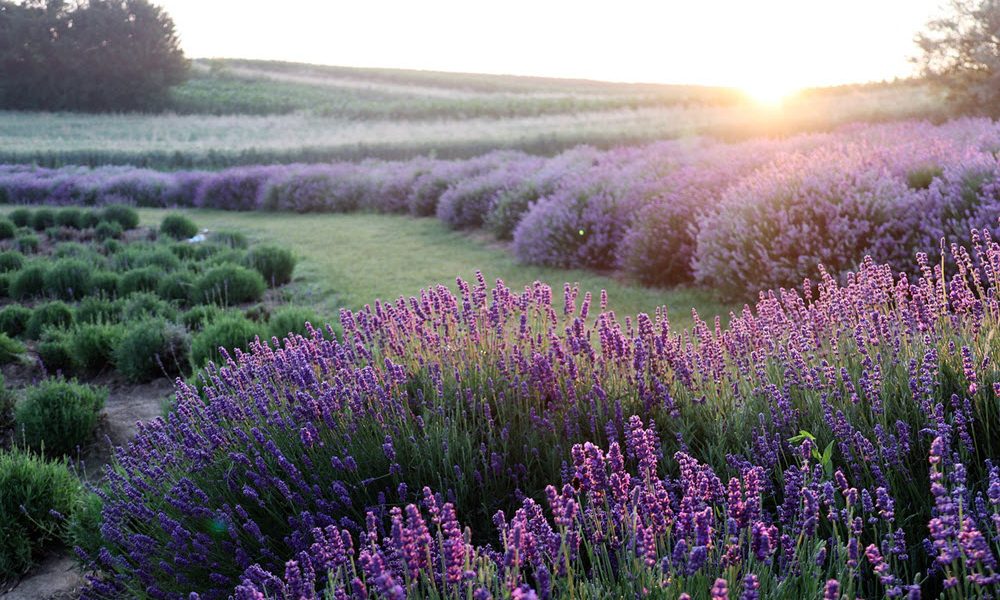 Growing lavender for profit
admin - February 1, 2022
In recent years, there has been a surge in demand for locally produced lavender, especially in North America. In France, lavender is grown on a massive scale, but consumers worldwide are increasingly looking to buy lavender that is locally grown, pesticide-free, grown using organic practises, etcetera. This trend is especially strong within the wellness industry, where lavender is going through a renewal of popularity as a culinary and medicinal herb. Therefore, it has become possible for small-scale lavender growers to sell their products with a profit, if they seek out the right buyers who are willing to pay a premium for lavender that fulfil their requirements. Still, the market for speciality lavender is considered to still be in its infancy, a bit similar to how it was for speciality coffee and speciality chocolate many years ago.
Selling home-grown lavender
Lavender is sold in bunches; either freshly cut or dried. Lavender buds and flowers can be sold separately.
Lavender can also be turned into lavender oil, or included in various value-added lavender products such as soaps, skin oils, sachets, and herbal pillows.
Examples of places to contact as you gauge local demand for high-quality local lavender:
Farmers markets
Wellness businesses, such as aromatherapy centres, yoga centres and massage therapists
Local buy-and-sell groups online, preferably more targeted ones (wellness, organic produce, local artisans, etc)
About lavender
Lavandula is a genus containing over 45+ species of flowering plants known as lavender. The species are native to Europe, Africa and Asia. To the south-east, their range extend into India.
Several members of the genus have a long history of being cultivated for their beauty, fragrance, taste, and medicinal properties.
Which species of lavender should I grow?
There are over 30 species of lavender and hundreds of varieties. If you are a beginner, we suggest you grow either Lavendula agustifolia or one of the lavandins hybrids (Lavendula x intermedia).
Lavendula agustifolia is also known as True lavender, Garden lavender, Common lavender and English lavender. Many variants of it exists, and some are better for certain use than others (e.g. better for essential oil production, better for dried bouquets, etc). Despite the common name English lavender, it is not native to England.
Growing Lavender augustiflora
Lavender augustiflora is native to the Mediterranean region, and grows wild in countries such as Spain, France, Italy, and Croatia.
It is a strongly aromatic shrub that can become as high as two metres. The leaves are narrow and green, and the flowers are pinkish-purple (i.e. the colour lavender) and grow on slender stems.
Growing zone
Lavender augustiflora is hardy to USDA zone 5. It does best in climates similar to its native Mediterranean.
Soil conditions
This lavender does best in soil that drains well, and it will not thrive in continuously damp soil. If you want to grow lavender for a profit, you may need to improve the soil by increasing its drainage. Sandy loam soil is best for lavender.
Lavender augustiflora tolerates somewhat acidic soils, but prefers soils that are neutral or alkaline. A pH of 7-8 is recommended. It is safer to test your soil with a pH-tester than guessing. Many garden centres offer this service.
Water
Lavender is famous for not needing a lot of water. It is adapted to the dry Mediterranean summers. It needs some water, of course, but don´t overdo it. Too much watering is especially detrimental if the soil does not drain well enough.
Fertilizer
Newly planted Lavender augustiflora will benefit from nitrogen fertilizer. Once the plant has established itself, give it almost no fertilizer.
You may also like