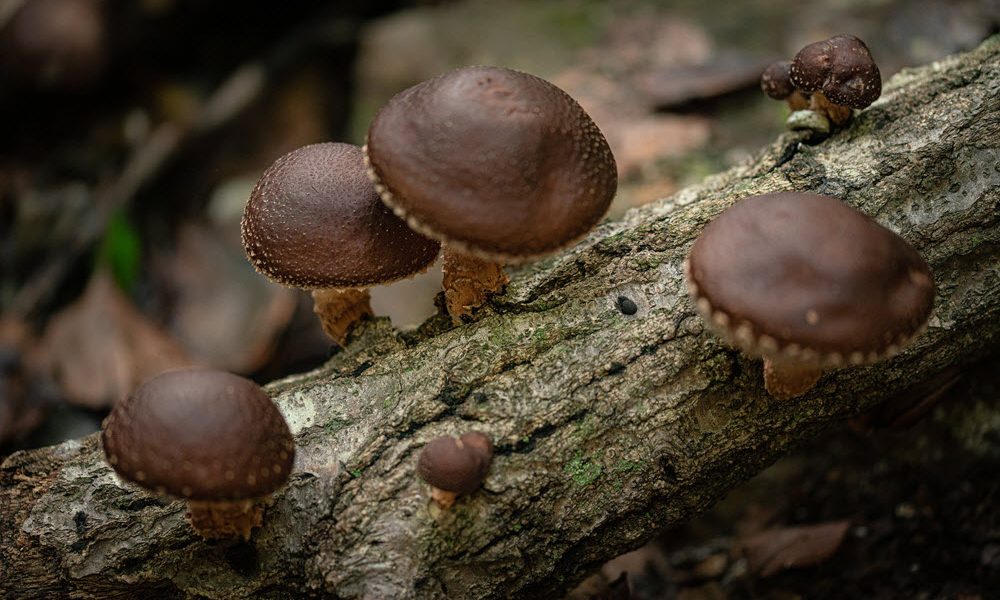 Growing shiitake mushrooms for profit
admin - February 1, 2022
Growing gourmet food mushrooms can be a great venture if you want to earn some extra cash. It is easy to get started, since you don´t need a big farm or heavy machinery. If you are a beginner, two of the best start-up mushrooms are shiitake and oyster mushroom, since they are rare enough to fetch an pretty good price but still well-known enough to quickly find local buyers. In this blog post, we will take a closer look at shiitake.
Shiitake is tricky to store and ship, which means that many buyers (both end-consumer and resellers) like to obtain their shiitake freshly-picked from local growers if possible. Therefore, the risk of you being out competed by some big-scale far-away shiitake grower is low compared to many other crops you can grow.
Important!
As always, it is important to do your research before you get started. Simply knowing how to grow shiitake is not enough; you also need to consider issues such as local market demand, competition, and legal requirements.
What is shiitake?
Scientific classification
Kingdom: Fungi
Division: Basidiomycota
Class: Agaricomycetes
Order: Agaricales
Family: Omphalotaceae
Genus: Lentinula
Species: Lentinula edodes
Shiitake is a species of mushroom native to parts of East Asia. Today, it is a popular food mushroom inside and outside its native range, and it is also used in some forms of traditional medicine.
In Japan, shiitake is traditionally grown on dead logs of the tree Japanese chinquapin, and that is why it is called shiitake. Shii (椎) is the name of the tree, and take (茸) simply means mushroom.
Shiitake doesn´t have to be grown on Japanese chinquapin; it can grow on a wide range of dead wood, sawdust or even straw.
The oldest known written mentioning of shiitake being deliberately grown rather than just foraged is from China´s Song dynasty. In the text "Records of Longquan County", compiled in 1209, there is a 185 word description of shiitake cultivation.
Shiitake mushrooms produce spores. Commercial growers typically place these spores on rye grain to promote growth. Once the rye grain is colonized by shiitake spores (this is known as "spawning") the grain is used to spread the fungus to a substrate, such as a dead log or hardwood sawdust. The fungus will spread in the substrate, and eventually produce "fruit", i.e. the part of the shiitake that we eat.
The "fruits" (the parts of the shiitake mushrooms that we eat) will appear in several waves known as "flushes". The first flush is the largest, and you can expect the following flushes to have a smaller yield. Some growers only bother with harvesting the first flush.
Can shiitake be grown indoors?
Yes, it is possible to grow shiitake indoors, so you don´t need a farm or garden to get started with your shiitake venture.
Traditionally, shiitake is cultivated on logs outdoors, but this is not a requirement. They can for instance be grown indoors in bags, using straw or sawdust as medium. It is also possible to grow shiitake in compost, but it is more tricky than using straw or sawdust. If you are a beginner, we recommend using a sterilized substrate instead of tinkering with compost. One of the issues with compost is the possibility of other fungal spores being present and competing with the shiitake.
LED lights suitable for shiitake growing have dropped in price in recent years, and since they are LED they consume much less electricity than old-style fluorescent lights. With artificial lights in place, you are not limited by window space and seasonal availability of natural light.
When you grow shiitake indoors, you can have your production running twelve months a year. It doesn´t have to be inside your home; it can be almost any space where you can ensure that factors such as temperature, humidity, etc are suitable for the shiitake. It can for instance be a garden shed, a garage or an attic.
Making money
The crop cycle is short for shiitake, typically around six weeks from planting to harvest.
With an indoor bag system, you can produce around 25 lbs of mushrooms annually per square foot of growing area.
Sale price will of course depend on local conditions. In many parts of the United States, it is possible to sell freshly-picked locally grown shiitake to wholesale buyers for $6 per lbs, and if you sell directly to end-consumers you can expect even more.
25 lbs of shiitake x $6 = $150
Remember, that is just for one square foot of growing area. Imagine what you could produce in a fairly small garden shed, a corner in the basement, or similar.
Value-added products
Some small-scale shiitake mushroom growers also produce value-added products instead of selling all their mushrooms freshly-picked. This can help you reach a broader audience and also deal with sudden mismatches in supply and demand. Examples of value-added products that store well are dehydrated mushrooms, mushroom jerky and pickled mushrooms.